Facebook group backs Royal Marines charged with murder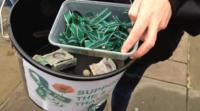 More than 63,000 people have joined a Facebook campaign to support five Royal Marines charged with murder.
On Sunday (28 October) hundreds turned out across the country to insist the men had been wrongly accused.
The Ministry of Defence (MoD) says the crime happened last year in Afghanistan and that evidence was discovered on a laptop.
The marines, who cannot be named for their own safety, are facing a court martial.
Stefano Proietti organised the event in Leeds, where around 100 people turned up.
Hand-made green ribbons were sold and the proceeds will be given to the families of the marines.
Stefano said: "The Facebook group was started by two other guys who I'm led to believe are in the forces. But I'm surprised how fast it's grown."
Rules of engagement
Although details of the charges aren't clear, Stefano said: "Normal rules do not apply in a war zone.
"These five guys were sent out to do a job, the finest trained military men in the world, and we've got to trust them to make very, very hard decisions on the ground."
Around 40 people gathered in Manchester.
The marines have been released back to their unit but their movements have been restricted.
So-called 'support events' were planned in Portsmouth, Plymouth, Edinburgh, Cardiff, Swansea, Norwich, London, Manchester and Liverpool.
In a statement the MoD said: "The arrests relate to an incident in Afghanistan in 2011.
"The incident followed an engagement with an insurgent. There were no civilians involved.
"These arrests demonstrate the armed forces' determination to ensure UK personnel act in accordance with their rules of engagement.
"It would be inappropriate to make any further comment while the investigation is underway."
The UK's rules of engagement are a set of guidelines which tell soldiers and marines what they can and cannot do when in a war zone, including how prisoners should be treated.
Neil, 22, is an ex-soldier and said: "We want to give the boys the benefit of the doubt. They were out there doing a job."
It's thought this is the first time charges like this have been brought against any member of the armed forces since the conflict in Afghanistan began.