Madonna beats Rihanna as UK's top female single seller
27 October 2012

From the section

Music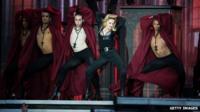 Madonna has sold more singles in the UK than any other female artist in chart history.
According to the Official Charts Company, the US star has combined single sales of 17.8 million.
Rihanna is in second place with 11.4 million and Kylie Minogue's in third with 10.2 million.
North American artists dominate the list in which British singers such as Adele and former X Factor winner Leona Lewis don't feature.
Madonna has had 59 top 10 hits with Into The Groove remaining her biggest selling individual single.
She's registered the sales over a career spanning nearly 30 years.
That makes Rihanna's performance impressive. Her single sales of more than 11 million have been accumulated in seven years.
The 10 female artists who've sold the most singles in the UK are:
1. Madonna - 17.8 million
2. Rihanna - 11.4 million
3. Kylie Minogue - 10.2 million
4. Whitney Houston - 8.5 million
5. Lady Gaga - 7.236 million
6. Britney Spears - 7.234 million
7. Beyonce - 6.9 million
8. Celine Dion - 6.7 million
9. Mariah Carey - 6.62 million
10. Olivia Newton-John - 6.61 million