Plan B says he 'was £40,000 in debt' before Brit Award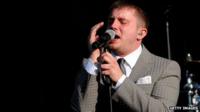 Plan B has revealed that months before picking up a Brit Award he was thousands of pounds in debt.
The singer and rapper was voted best British male solo artist at the award ceremony in February 2011.
"I didn't start making any money from [my] live shows until about two years ago," he said.
"I was 40 grand in debt before Strickland Banks come out. So the first Strickland Banks tour I did I was in debt."
His second studio album The Defamation of Strickland Banks was released in April 2010.
To date the album has sold more than a million copies.
'Massive misconception'
"People see you on film posters and they see your album out," he said.
"[They] see your videos and think you're making money. A massive misconception."
He says as well as handing out cash grants he hopes to use his experience to help musicians new to the industry.
Plan B, whose real name is Ben Drew, has recently set up a youth charity aimed at helping disadvantaged young people.
Each One Teach One will initially focus on teenagers in the area of east London the 29-year-old grew up in.
"Kids out there need to understand it's hard work," he said.
"You can't just write a song, shoot some video and think you've made it."
Royalties delay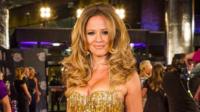 Girls Aloud singer Kimberley Walsh is also keen to stress the importance of being patient when pursuing a career in music.
"The reality is very different to how people see it. It took us years to feel like we were actually getting somewhere," she said.
"You have to be determined, you have to be prepared to put the effort in. Otherwise things will fall apart."
For Wretch 32 the time between recording a song and actually seeing any of the profits from it came as a surprise.
"The best get rich scheme is probably the lottery," he said.
"It takes a little while for the royalties to kick in. I'm sure the payment is like a year behind what you've done the year before."