Army dog given posthumous medal for Afghanistan work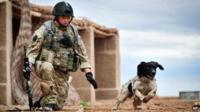 A military working dog who died in Afghanistan has been awarded a medal for his work finding hidden weapons and improvised explosive devices (IEDs).
Theo, whose handler Lance Corporal Liam Tasker was killed by enemy fire in 2011, has been recognised with the PDSA's Dickin Medal.
It is the highest award any animal can receive and is given for gallantry or devotion to duty in military conflict.
LCpl Tasker's mother, Jane Duffy, says she is "so, so proud" of the award.
"It's like they were a team. One couldn't have worked without the other out there, doing the job they were doing."
Laura Tasker says Theo helped her brother, who received a posthumous Mention in Despatches (MID) and was from Kirkcaldy in Fife, while he was serving in Afghanistan.
"I don't think people realise how close they actually were," she said.
"They were completely made for each other."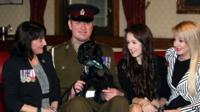 Theo, a springer spaniel, died from an undiagnosed seizure hours after Lance Corporal Tasker died on 1 March 2011.
He still holds the record for the most operational finds made by an arms and explosives search dog in Afghanistan, with 14.
Life-saving work
The PDSA Dickin medal recognises that in finding IEDs and bomb-making equipment, Theo prevented soldiers and civilians from being killed or wounded.
Sergeant Matthew Jones served with Lance Corporal Tasker and Theo in Afghanistan and, accompanied by search dog Grace, accepted the award on their behalf.
"When he [Theo] teamed up with Liam, it was a match made in heaven," he said.
"Liam will be massively honoured. He strived to be the best and this is the ultimate testament to him and Theo.
"If he's looking down on us then he'll be smiling."
Theo is the 64th animal to receive the PDSA Dickin Medal.
Other recipients include 27 other dogs, 32 pigeons, three horses and a cat.