Britney Spears case: Sam Lutfi cries over death threats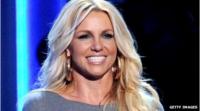 Britney Spears' ex-manager says he got death threats because of claims made in a book written by the singer's mother.
Sam Lutfi is suing the singer and her parents on various grounds and claims Lynne Spears defamed him in her book.
"There was a huge spike of death threats that were pretty bad," Osama "Sam" Lutfi told a court in Los Angeles.
"People I know were shunning me. Websites were created to kill me. People wished I was dead."
Sam Lutfi said he became "depressed, anxious and suicidal" following accusations in Through the Storm that he controlled Britney Spears' life.
With his lawyer Joseph Schleimer reading extracts from the book, Lutfi denied claims that he drugged the singer, hid her mobile phones and tried to keep her parents away from her.
The accusations refer to the years that Lutfi was the singer's manager, before he was let go from her team in 2008.
Lutfi denies the claims and says he looked after the star during her psychiatric episode and helped to control the paparazzi.
'Punched'
He also told the court that he was punched by the star's father, Jamie Spears.
"He cornered me in the kitchen, punched me in the solar plexus and threatened to kill me," Sam Lutfi testified.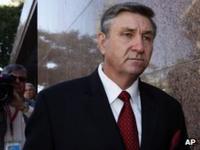 Mr Spears' lawyer told the court his client denied the assault.
As well as suing the singer's parents for defamation and assault, Sam Lutfi is also suing Britney Spears for breach of contract.
He claims he had an agreement to act as Britney Spears' manager in exchange for 15% of her earnings.
However, Jamie and Lynne Spears say that Lutfi took advantage of the singer's vulnerabilities and was never her manager.
Record label boss Barry Weiss, who headed Jive Records, appeared to back up those claims earlier in the week, describing Lutfi as a "gofer ... like a personal assistant".
The case continues but Britney Spears is not attending the trial and is not expected to testify.