Skyfall: Daniel Craig defends Bond product placement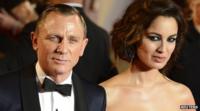 James Bond star Daniel Craig says the product placement in Skyfall is a "fact of life".
During one scene the famous spy is seen drinking a branded beer, just one of a number of companies that have paid to appear on screen.
Craig said: "We couldn't afford to make those movies if we didn't have those sponsors - it's a fact of life and it's been happening for the past 50 years.
"I don't know what all the fuss is about."
The beer scene in particular has upset some fans who think it goes against 007's traditional "shaken not stirred" image.
But product placement in Bond movies is nothing new. Multiple brands have featured over the years.
'No compromise'
Speaking at the film's premiere, director Sam Mendes also defended product placement.
The director said sponsorship was especially important for Skyfall because the film's studio, MGM, went bankrupt, delaying production.
However, Mendes told Newsbeat that he wouldn't have included any products that weakened the film.
He explained: "The producers come to you at the beginning: 'We have relationships with these six firms - is there anyone you don't want to work with?
"'Any of these you can't fit in the movie?' And you say, 'No I can't do those two, these four would've been in the movie anyway. He would've been drinking in this scene, he would've worn a watch'.
"There was no compromise to the film at all using some product placement. If there had been - I wouldn't have allowed it in."