Beer sales in pubs and supermarkets fall again across UK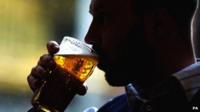 The sale of beer in pubs and supermarkets has fallen by nearly 6% in the three months to September.
The British Beer & Pub Association (BBPA) says around 117 million fewer pints were drunk compared with the same period a year ago.
Sales of beer in pubs fell by 4.8%, with 51 million fewer pints poured, while supermarkets and off-licence sales were down by 6.5%.
The BBPA is accusing the government of damaging the brewing industry.
It says the beer duty escalator needs to be frozen and says the reduction in sales is hitting government revenues as well as jobs.
The BBPA's report claims the tax on beer has risen by 42% since the 2%-above inflation escalator was introduced in 2008.
British business
MPs will hold a full parliamentary debate on the impact of beer taxes on 1 November.
That's after a petition was signed by more than 100,000 people which demanded government action on the issue.
Brigid Simmonds, chief executive of the BBPA, said: "If the government wants to encourage growth, back British business and support local communities, then it must end the beer duty escalator.
"The chancellor must listen to the thousands of people now calling for a change, so the sector can grow, create jobs and contribute more to UK plc."
The government's beer tax escalator means increases of 2% above inflation until 2014/15.
The BBPA says sales also fell despite the Olympics and Euro 2012 taking place.
A treasury spokesman said: "The government hugely values the economic contribution made by pubs and breweries.
"We have introduced a range of tax measures that will help the alcohol industry and pubs in particular.
"Cutting employers' national insurance contributions will make it cheaper for pubs to employ people on incomes of less than £21,000.
"The industry will also benefit from the reductions in corporation tax, fuel duty cut and extension of the small business rates relief holiday."
Beer sales also fell 10% in the three months to June compared to the same period the year before although real ale sales went up slightly.