Girls Aloud's Kimberley Walsh: We're not splitting up
24 October 2012

From the section

Music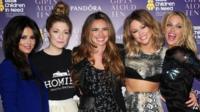 Girls Aloud will not split up after their 10th anniversary reunion celebrations, according to band member Kimberley Walsh.
Cheryl Cole's claimed in her recently published autobiography that she expected this to be the group's final farewell.
But Walsh said: "I don't think we're ever going to split up.
"I don't think any of us know what's going to happen after the tour. That's as far as we've planned for now."
Band's future
She added: "Cheryl wrote the book a long time ago. She obviously wrote it before any of the music, before we had anything in place."
Last week (19 October) the five-piece came back together to announce the release of a greatest hits album and a 12-date arena tour for 2013.
"I think we'll see where we're at then," said Kimberley Walsh.
"Whether we go back to doing our solo projects for a while, then come back together again… we'll see how it goes and leave it open.
"We're in a really privileged position where we can be like, 'Let's do that for while, let's do that for while.'
"It's the Take That way - it works really well."
Group member Sarah Harding entered rehab in October 2011 for treatment for depression and alcohol addiction.
"Sarah has had a tough time," said Walsh. "I think being in a group and having four girls, basically four sisters around you every day, is obviously going to help. You've got that support network.
"Obviously she's getting back on track so I think it's going to help her to be around us."
Walsh said Harding was "definitely" in the best health she'd found her in for a while.
"For her it's kind of going back to the norm and a bit of routine which I actually think is really good," she said.
Fans have already had a chance to hear the band's new single Something New, with more tracks expected on the forthcoming album.
It is this year's official Children in Need single.
"It's typically us," she said. "But obviously we're moving forward. It's a bit more dancey than some of our older stuff."