One Direction join the British celeb under-30 rich list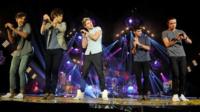 Boy band One Direction have joined the rich list for British under-30s for the first time.
As a group they have reached number five on Heat magazine's chart of rich, young celebrities, having amassed a fortune of £26.33m between them.
Daniel Radcliffe still tops the list with £53.33m.
His fellow Harry Potter actor Rupert Grint has dropped two places to number seven, with an estimated fortune of £23.47m.
Emma Watson is just ahead of him with £26.53m, earning her fourth spot for the second year running.
Adele has moved 10 places up the list and is now thought to be worth £26.06m.
Although One Direction are not worth as much as Girls Aloud, who have a combined fortune of £35.16m, they are higher up the chart than the recently reunited girl band.
That is because the five members of Girls Aloud have been listed individually because they have all been working on their separate careers in recent years.
Cheryl Cole is the only Girls Aloud member to reach the top 10. She is ninth in the list with £13.4m.
One Direction have recently been doing well in the US where they have been promoting their album.