James Corden wanted for hit US show Girls says producer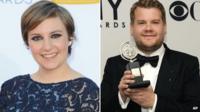 The executive producer of new US show Girls, Jenni Konner, says they want James Corden to star in the programme.
The show, which has been likened to Sex and the City, features four 20-something girls living in New York.
Konner says she was "obsessed" with Gavin & Stacey and went to meet Corden during his time on Broadway with One Man, Two Guvnors.
"He's so great," she said. "We really wanted to use him this year."
Girls starts on satellite channel Sky Atlantic tonight (22 October) in the UK although the second series starts in America in January.
Jenni Konner says James Corden's busy schedule made it too difficult for him to participate in the first series.
She said: "It's very hard to put people in theatre in your show because they work constantly. James, please, we'd like to make this work."
'Economically different'
Although the show has been likened to Sex and they City, there are differences between the two programmes.
Konner is still pleased by the comparison to a show she says is far more glamorous than Girls.
"That is a compliment to us," she said. "We grew up on Sex and the City.
"I think it's very different because those women were in their 30s and were at such a different time in their lives.
"Our girls really don't know who they are, what they'll do and it's also very economically different."
Lena Dunham leads the cast as Hannah, as well as being the creator and an executive producer.
There has been a lot of focus in the press about her appearance.
But Jenni Konner says she just has a "real woman's body".
"We've had to say to her, 'You'd better keep eating bagles because nobody wants to see a super skinny Hannah.'"
Girls starts at 10pm on Monday 22 October on Sky Atlantic.