Biffy Clyro state of music 'rebellion' with double album
22 October 2012

From the section

Music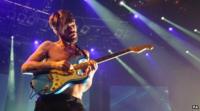 Biffy Clyro say double album Opposites is a form of rebellion against the "throwaway" nature of music.
"I think we're going back to a time when albums were what it was about - something to get your teeth into," said bassist James Johnston.
Opposites, the follow-up to 2009's Only Revolutions, is released on 28 January and has 20 tracks.
"To release anything other than a short concise album is against the flow," said drummer Ben Johnston.
"Most people are going down the single route now."
Ben said rock bands like Green Day and themselves, who were choosing to release multiple albums, were "trying to rebel against the state of music at the moment".
He added: "I guess it's a good thing, musicians fighting for music and the idea of albums - which is what we believe in."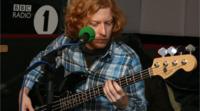 James said he thought music was becoming "throwaway for a lot of people".
"You download one song, you listen to it and it's over - you're on to the next one."
Biffy Clyro's new album was recorded in the sunshine of Santa Monica, California, over five months.
The Kilmarnock band said they recorded each record to have a distinct theme and feel.
"I'd say the first disc is probably about points in your life that have gotten you to a certain place that maybe you're not particularly happy about and the frustrations that come with that," said James.
"The other side of the record is almost the antithesis of that, how you get beyond that point and get to move forward and make things better."
Biffy Clyro are playing as part of the Radio 1 Rocks takeover this week, a special series of shows celebrating rock 'n' roll.
They round the week off by performing with Twin Atlantic on Thursday 25 October.