Justin Bieber nude photo on computer theft a 'hoax'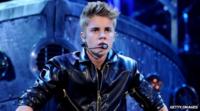 Claims that Justin Bieber's computer was stolen earlier this month were part of a hoax the 18-year-old knew about, it's being reported.
The singer had tweeted that "personal footage" had gone missing from his camera and computer after the items were taken while he was on stage.
There were also rumours of leaked video clips and a picture which showed the Canadian naked.
It would appear now that Bieber was behind the joke.
"Since I was 14 I have had a lot of things said about me, from dying, to saying I had a baby with a woman I never even met, nude pics, drugs...but today...today i get to be in on it... " he tweeted.
It's thought the information was put out in the public domain as part of a publicity stunt to promote his new video Beauty and A Beat.
The video, which is from his album Believe had 10.6 million views within the first 24 hours of release - that has since risen to more than 33 million views.