Metallica and Iron Maiden to headline Rock in Rio 2013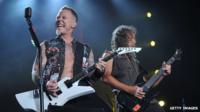 Metallica, Iron Maiden and Bruce Springsteen are to headline next year's Rock in Rio festival.
The event takes place in the Brazilian city between 13-22 September 2013.
Metallica, who will be playing the festival for the sixth time, released a statement on their official website.
"We're back with another show announcement and unlike last week's posting, we're giving you almost a whole year's notice," it said.
"We are super psyched to be returning to Rio de Janeiro, Brazil for our sixth Rock in Rio on September 19, 2013. How's that for advance planning?!"
Bruce Springsteen will perform on 15 September while Iron Maiden close the festival on 22 September.
Other headliners will be named soon.
International sales don't start until next April, although people living in Brazil will be able to buy tickets from 23 October.
Rock in Rio began in 1985 with headline sets from the likes of Queen, Rod Stewart and AC/DC.
Further festivals took place in 1991, 2001 and 2011 in Brazil with the event also travelling to Portuguese capital Lisbon and Madrid in Spain.
The festival is due to be held in Argentina and Mexico in 2014 before returning to Rio in 2015.