Your view: Private abortion clinic opens in Belfast
18 October 2012

From the section

Health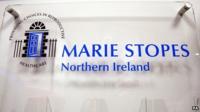 The first private abortion clinic in Northern Ireland is opening today (18 October) in Belfast.
Marie Stopes International says it will operate within the abortion law in the country, which is different to the rest of the UK.
In Northern Ireland, abortion is illegal unless having the baby would physically or mentally harm the mother.
This clinic will provide terminations which meet these medical criterias up to nine weeks.
There is no time limit on when abortions can be carried out in Northern Ireland as long as the legal requirement of the mother's life or health being at serious risk is met.
Abortions are legal in the rest of the UK - a woman can choose to have one up to 24 weeks into the pregnancy.
Protestests took place outside the clinic, which is in the centre of Belfast, but some hope this will reopen the debate about abortion in Northern Ireland.
Stephanie McManus, 19, Colleen Robinson, 22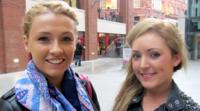 Stephanie doesn't want the clinic to open.
"I think they shouldn't be opening one and also in the town centre, I don't think they should be flaunting it," says Stephanie.
"It's making out like it's an OK thing to do and I don't understand how anyone could think that was OK."
Colleen, 22, is also against abortions.
"I just think whatever age it is really, even it is nine weeks, it's still a wee baby, only starting off. I don't agree with it all, I think it's disgusting."
Rachel, 23, and Laura Spence, 21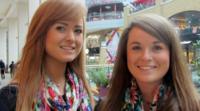 Sisters Laura and Rachel think the law needs to change.
They are hoping the private abortion clinic opening in Belfast will reopen the debate on abortion in the country.
"I think it needs to be looked at again," says Laura.
"It's very outdated. I don't see why it should be so different over here than it is in England."
William Coulter, 23, and his girlfriend Michelle Brown, 20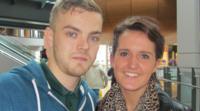 William doesn't want the abortion clinic to open in Belfast.
"I'm against it," he says. "I think it shouldn't be allowed, it's basically just killing innocent children."
"If they find themselves pregnant there's always the easy option of getting rid of it, but it's their own fault for getting themselves into that situation in the first place."
His girlfriend doesn't agree with him.
"I see so many young people, 13, 12, getting pregnant now, they should have the chance to live their life," she says.
Suzanna Raybine, 23, and Megan Stewart, 19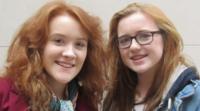 Suzanna thinks Northern Ireland needs to move with the times.
"It's not a nice thought, abortion, but if you are in that situation it's awful that you have to go over to England to get help," she says.
"I think we need to just do something about it, we just need to get in line with the rest of the UK.
"You could only find out at nine weeks that you were pregnant and by that time it's too late."