Black Eyed Peas sued by Ubisoft over smartphone game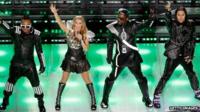 The Black Eyed Peas are being sued for $1m (£620,000) by games company Ubisoft.
A spokesperson for the software manufacturer confirmed it was down to a breach of contract.
Ubisoft claims they have spent £150,000 developing a game for the iPhone and iPad featuring the band but are still waiting for approval.
The Black Eyed Peas Experience is already available on the Nintendo Wii and Microsoft Xbox 360.
The video game allows users to recreate some of the group's signature dance moves.
"Since March 2012, and despite Ubisoft's repeated requests, BEP Music has breached the contract by failing and refusing to either approve or disapprove the iOS game in writing or otherwise," Ubisoft said in a statement.
The Black Eyed Peas made history in June 2010 when their single, I Got A Feeling, became the first ever song to be downloaded more than one million times in the UK.
The group are on hiatus with members working on solo projects.
Front man will.i.am is a coach on BBC One talent show The Voice.
Ubisoft produces multi-platform titles which include Assassins Creed, Far Cry and Just Dance.