Gary Barlow says Take That line-up is still undecided
17 October 2012

From the section

Music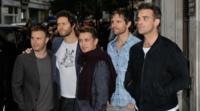 Take That will begin recording the group's seventh studio album in 2013, but Gary Barlow says he "doesn't know" yet if Robbie Williams will be taking part.
Speaking on a visit to the Brit School in Croydon, Barlow said Take That would be "hitting the studio in the New Year".
But he said it was undecided if all five members of the band would be involved.
"We haven't made any plans," he said.
"I think this is the great thing about the band these days. We're still yet to meet, all five of us [to discuss it], so we'll decide then."
Solo freedom
The 41-year-old announced a solo tour this week but denied that meant the beginning of the end for Take That.
"Definitely not," he insisted. "I guess in a way it's my last bit of freedom actually because once I commit to Take That again, it's an 18-month, two-year thing.
"So I'm sort of celebrating my last few months of freedom."
Barlow has already promised the band will tour next summer.
In November Gary Barlow will receive the Music Industry Trusts Award at a special evening event raising funds for the Brit Trust and Nordoff Robbins.
As part of that, he took part in a song-writing class with students at the Brit School and contributed to a parent toddler music therapy group in the Nordoff Robbins unit in Croydon.
'Happiest ever'
Barlow said he "loved" the song-writing class but that he "would actually have liked longer".
"I'm going to come back and do a longer session with the students because to me that's like the one bit I never really get to discuss even being on X Factor."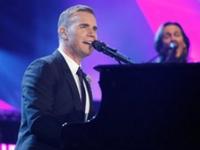 As for rumours he's unhappy as a judge on the ITV1 show, Barlow confessed that "more so than ever before, I'm really happy with the show this year".
He also shrugged off recent tabloid reports he was considering leaving, insisting he doesn't read newspapers from this point onwards.
"I think I would be going on every week wanting to apologise or rectify things," he said.
"That's the show though, that's the soap opera of the show."
Barlow remained unclear whether he would return as an X Factor judge for a third series, insisting "we don't get told".
"We don't even get asked until the New Year."