Corden and Jones to produce US remake of Gavin & Stacey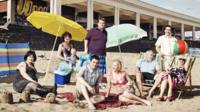 Gavin & Stacey is set to be remade by Fox for an American audience.
The show's original writers and stars, James Corden and Ruth Jones, have also signed up as executive producers.
The comedy features Gavin (Mathew Horne) and Stacey (Joanna Page) navigating the difficulties of a long distance relationship between Essex and Wales.
The original production company, Baby Cow Productions, will work on the development along with BBC Worldwide.
It is not thought that Corden and Jones will have an on-screen role in this version.
One half-hour pilot episode is currently being developed.
The original series has already aired in the States on BBC America.
Other British TV hits have been remade for US audiences with varying degrees of success.
Ricky Gervais's The Office was remade, starring Steve Carell in the role of office manager.
The Office: An American Workplace has gone on to have nine series and win Emmy and Golden Globe Awards.
The US version of Channel 4 comedy The Inbetweeners started this summer in America and received mostly poor reviews from critics.
Other notable flops include remakes of Skins, Spaced and The IT Crowd.
An American version of Misfits is also due soon.