Emmerdale star Wolfenden 'nervous' ahead of live show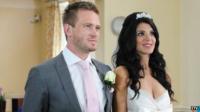 Emmerdale star Matthew Wolfenden, who plays David Metcalfe in the show, says the cast is excited but nervous ahead of tonight's (17 October) live episode.
"People are pretty nervous about it but there's also a real buzz," he said.
ITV will air an hour-long special of the soap to celebrate its 40th anniversary.
"We are going to rehearse it as though it's a play. We are rehearsing it as live, all the time, no mistakes. We are looking forward to getting it done."
Autopilot
Emmerdale, previously known as Emmerdale Farm, is the second longest-running soap in the UK.
Programme bosses have kept details of the soap's first live episode a closely-guarded secret.
Matthew Wolfenden insists viewers won't be disappointed.
"The big treat we've got is two births, two weddings and somebody is going to die," he said.
"It's a big character as well. People will be surprised."
All 61 cast members are set to feature in the show with Wolfenden admitting those most likely to fumble their lines have been given the least time on camera.
"As an actor when you forget your lines you do tend to go into autopilot and swear and do all sorts, things you can't do on live television," he said.
"You'll see everybody on the live episode, you'll hear everybody, everyone's doing something."
BBC One soap EastEnders celebrated its 25th anniversary with a live episode in 2010.
The same year, Coronation Street - the UK's longest-running soap - marked its 50th anniversary in the same way.