Paul Hollywood: Bake Off winner 'nails it on the day'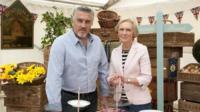 Paul Hollywood says viewers will find it hard to predict who will win this series of Great British Bake Off.
Finalists Brendan, James and John will be making fondant fancies, puff pastry pies and chiffon sponge aiming to be crowned the series' star baker.
Paul and Mary Berry are assessing the competitors on the last weekend's bakes only, so "whoever nails it on the day, will win".
The Bake Off judge thinks being in the last three is an achievement in itself.
"To get through to the final, you've won anyway," he said.
"But the proper winner of Bake Off will be the one who actually does it on the day."
Style icons
James has long been a favourite to win the competition and has been described as a "sex symbol".
Mary isn't sure that it's his cakes that make him so appealing.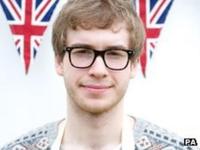 "Are you sure that it's the baking that's so attractive or do you like his jumpers?" she laughs.
This series has also seen Mary Berry being labelled a fashion icon, with some of the clothes she has worn selling out straight after the show.
"The great thing on the Bake Off is the bottom half I always wear trousers because Mel and Sue do," she said.
"It's quite fun just having to think about the jacket or the jumper. I love to hear the viewers comments."
'Absolutely disgusting'
The pair have had their fair share of dodgy taste tests.
There was the infamous rum baba that was dusted with salt instead of sugar which Mary says was "awful".
Paul has also been asked to taste four day old cakes that you could "prop a door open" with.
"They were disgusting, I mean absolutely disgusting. They were like bricks."
The final of Great British Bake Off is tonight (16 October) on BBC Two at 8pm.