Music industry backs courses to help young unemployed
17 October 2012

From the section

Music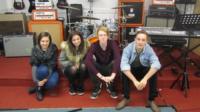 The number of 16 to 24-year-olds out of work is now under a million for the first time in a year, according to the latest statistics.
The figure fell to 957,000 in the three months to August.
One of the most aspirational areas for young people to work in is the music industry.
For the first time, PRS (Performing Right Society) are offering "springboard" scholarships for music-related diplomas.
The courses at Brighton Institute of Modern Music (BIMM) are all about training young people, in the hope they'll become the next big managers, A&Rs or songwriters.
Meet the students
Around 146,000 people are employed in the UK music industry, according to Creative & Cultural Skills. PRS say it's an industry which is worth an estimated £3.4 billion to the UK's economy.
BIMM has been particularly successful, producing bands like The Kooks and Steve Sparrow from Morning Parade.
Five students were awarded scholarships on courses which began last week.
One of them is Sammi Doherty, 18, from Brighton.
She's studying the music business and her ambition is to sign the next Angel, the London singer who recently scored a top 10 hit with his track Wonderful.
"You expect the music industry to all be old guys who know everything," she says.
"You think, 'I'm never going to get like that' but then I went to meet people from Island [Florence & The Machine and Mumford & Sons' record label] and you just think 'Oh, they're actually all right.'"
Jordan Collins, 18 and from Bodmin, is studying the song-writing diploma.
"It's definitely daunting," says Jordan on his hope of finding a job in the music industry.
"We'll make contacts and meet people here. In the music industry it's more about the people you know and we're certainly in the right place to do that."
Faye Kirby, 17 and from Uckfield, says she wants to become a music manager after seeing Jessie J live.
"I'd much rather make mistakes in the class than out there because it's going to cost a lot more money to repair it," she says.
Sheeran's views
Despite the efforts of organisations like PRS to launch the next generation of music industry employees, these courses aren't for everyone.
Ed Sheeran's experience with college courses was different.
"People think, 'I need a degree, I'm going to go off and study music at university.' I made that mistake.
"I went to a few music colleges for the first couple of weeks.
"The first lesson was like, 'How do you put up a mic stand?' You can learn that on your own.
"There's no point wasting money on a college and coming out of it with all that debt. What you need is hard experience."
Mel Thornton, head of workplace learning at BIMM Brighton, says that's a big part of what the courses offer too.
"Our main tip is be proactive. Get involved. It's essential to do work experience."