MP wants ban on liquid nitrogen being used in drinks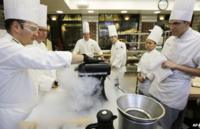 A Lancashire MP wants a ban on liquid nitrogen cocktails after an 18-year-old in his constituency had to have her stomach removed after drinking one.
Gaby Scanlon was out with friends in Lancaster when she collapsed in Oscar's wine bar and was taken to hospital.
Police officers say she would have died if doctors had not performed the operation at Royal Lancaster Infirmary.
"I'm angry one of my constituents has been injured by [it] and that is one too many," said David Morris.
"Parliament returns following recess this week and I will be assessing the options to make parliament aware of what has happened to Gaby and I will ask MPs to consider banning liquid nitrogen drinks before someone else is injured or even killed."
'Extreme cold'
David Morris, the 46-year-old Conservative MP for Morecambe & Lunesdale, was elected in 2010 and is the son of an ex-Royal Navy lieutenant commander.
He's also written to Prime Minister David Cameron, the chairman of the Food Standards Agency (FSA) and the Secretary of State for Health, Jeremy Hunt, asking for their support with his campaign.
Lancaster Council also wrote to the health secretary last week asking him to investigate the risks of liquid nitrogen cocktails.
The drinks are not illegal but the FSA has issued a warning about consuming them.
A statement on their website says: "Its extreme cold temperature makes it unsafe for people to drink and eat because the human body is unable to cope with such a cold internal temperature."
If swallowed, liquid nitrogen can cause cold burns to the mouth, throat and stomach, killing the tissue.
As the frozen vapour hits the stomach it rapidly warms, releasing large volumes of air which can burst the stomach.
Doctor John Ashton, director of public health for Cumbria, said last week: "This girl is the victim of an irresponsible alcohol industry that's now competing on gimmicks.
"Alcohol itself is a very dangerous thing if improperly handled and liquid nitrogen is [as well]. It destroys human tissue."
Gaby Scanlon, from Heysham in Lancashire, is still in hospital.
The cocktail was taken off sale by Oscar's wine bar last week and a police investigation continues.