Strictly Come Dancing tops X Factor in Saturday ratings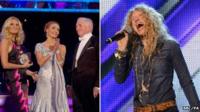 Strictly Come Dancing has beaten The X Factor in the ratings by more than a million viewers.
Nearly 10m tuned in to watch the show on BBC One on Saturday night.
On ITV1, 8.8m watched artists including James Arthur, Ella Henderson and Rylan Clark sing for the X Factor judges. That figure includes the viewers of catch up channel ITV1+1.
Traditionally The X Factor and Strictly Come Dancing have been pitted against each other in a ratings battle.
In the past audiences have protested when the two shows have been scheduled at the same time.
Second eviction
There was just a five-minute overlap this Saturday, allowing viewers to watch the two programmes if they wished.
Both shows aired their eviction programmes on Sunday evening.
Melanie Masson was the second person to leave from The X Factor, as well as being the second artist from Gary Barlow's overs category evicted from the competition.
Again the decision went to deadlock after Louis Walsh voted to save one of his groups, District3.
Last week Carolynne Poole was axed from the competition, after Walsh went to deadlock. The audience vote saved Rylan Clark.
TV presenter Johnny Ball was the first celebrity to be sent home from Strictly Come Dancing.
He was in the dance off against Daybreak's showbiz editor Richard Arnold, who was kept in by the judges.
Johnny Ball had been dancing with a substitute professional, Iveta Lukosiuta, after his original partner, Aliona Vilani hurt her ankle.
Strictly Come Dancing is next on BBC One on Saturday 20 October at 6.20pm. The X Factor will be on ITV1 at 8.20pm.