X Factor singer James Arthur collapses after performing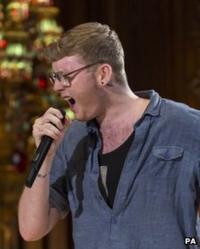 X Factor finalist James Arthur had a panic attack after performing on the show on Saturday (13 October).
The 23-year-old collapsed off stage after singing No More Drama by Mary J. Blige.
Show bosses say he didn't need to go to hospital and will appear on Sunday's programme.
James said: "I had an anxiety attack last night, maybe because I gave everything I had to my performance.
"I feel loads better this morning after a good night's sleep and I'm looking forward to tonight's show - there's no way I am missing it."
An X Factor spokesman said: "James Arthur became unwell after his performance on the show last night. An ambulance was called as a precaution but he was not taken to hospital and he will appear on tonight's show.
"The welfare of contestants is our key priority and we work with them to provide any support that is needed."