T4 to come to an end in December 2012, says Channel 4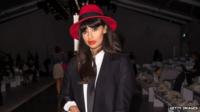 Channel 4 has announced that T4 is to end in December with E4 replacing it as its brand for younger viewers.
The channel says it is to reflect the shift in viewing habits.
T4 first launched in 1998 and broadcasts on Channel 4 on Saturday mornings and E4 on Sunday mornings. Friday night music shows are going to be piloted as part of the changes.
Dermot O'Leary, Vernon Kay, June Sarpong, Alexa Chung and Nick Grimshaw have all presented the programme.
T4 Presenter and Radio1 DJ Jameela Jamil told Newsbeat her agent rang her to tell her the news.
"I found out about an hour before it went to press. It was a really big shock to me. I think it's really sad.
"It's such a great breeding ground for young talent."
'British youth'
She added: "I think everyone has that brief glittering moment of wanting to be a T4 presenter.
"It's an institution, a part of British youth, but I'm sure Channel 4 will carry that on in different forms. It doesn't mean there won't be anything else targeted towards teens."
"I look forward to seeing what's going to replace it. They are big shoes to fill but I'm sure they know what they're doing."
Fellow presenter Matt Edmondson says he thinks the move is understandable.
He said: "I think when T4 was created there were only a few TV channels, now we have E4 which is similar so I can see why they have done it.
"It's still sad though. I grew up watching it and now work there so it's obviously a big part of my life."
Dominic Bird, Channel 4 Head of Formats, says he will commission three different pilots for a pop music show to broadcast in the new year.
"The pilots reflect our continued ambition to provide our younger audiences on Channel 4 with a range of entertaining music content," he said.
"In a landscape where Channel 4 now provides E4, the nation's most popular channel for 16 to 34-year-olds, T4 has been fighting incredibly hard maintain the cut through it once enjoyed and now is the right time to look at more appropriate ways to serve our younger viewers."