Police find heroin and a loaded gun on Nelly's tour bus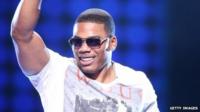 Police have found heroin, a loaded gun and marijuana on Nelly's tour bus, when it was stopped at a checkpoint in Texas, USA.
One of Nelly's entourage, Brian Keith Jones, has taken responsibility for all of the items found on Wednesday and has now been arrested.
The rest of the vehicle's occupants, including Nelly, were released.
Nelly gave a statement after the incident which said he was not "aware" that drugs and a gun were on the bus.
'Unfortunate decision'
"It is my understanding a member of my staff made an unfortunate decision to bring unlawful materials on our tour bus that resulted in his arrest.
"Neither I nor anyone else on the tour bus was aware of his decision to bring these on board."
The bus was stopped at the same border patrol checkpoint that other celebrities have been stopped and searched at.
Rapper Snoop Dogg, The Social Network star Armie Hammer and singers Fiona Apple and Willie Nelson have all be stopped for possession of drugs there.
Rusty Fleming, a spokesman for Hudspeth County sheriff said the bus had pulled into the checkpoint in Sierra Blanca, Texas, when a dog detected the presence of what were described as controlled substances.
"The agent requested all seven occupants out of the bus and conducted an inspection of the vehicle," he said.
"A search produced a small plastic container containing marijuana, 36 small bags containing heroin and a loaded .45 pistol."
It is not yet known what charges Jones will face.
Nelly, 37, whose real name is Cornell Iral Haynes is a Grammy Award-winning musician.
He has also appeared in TV programmes such as CSI: NY and 90210 and films including The Longest Yard.