Gary Barlow wants X Factor name change for 'Overs'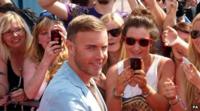 Gary Barlow wants the name of the X Factor category he's in charge of to be changed.
Melanie Masson, who is part of the 'Overs' group believes her mentor does not think they are taken seriously.
Gary Barlow became the first judge to lose an artist last Sunday, when Carolynne Poole was voted off in controversial circumstances in the live show.
Melanie says that has made the Take That star even more determined.
'Joke category'
"Gary's really on a mission to change the perception of the 'Overs' category," says Melanie, who says she feels like the mum of the group.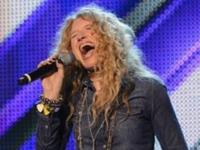 "He doesn't like 'Overs', as 'Overs' has connotations of being over the hill."
Kye Sones, 30, backed his mentor on a name change.
"I think this year is the first year that the 'Overs' is not a joke category in any shape or form".
In the past novelty acts like Chico and Wagner have made it to the latter weeks of the competition in the 'Overs'.
Barlow upset
Steve Brookstein won the competition in 2004 but people in the category have not done as well since.
Last week Gary Barlow stormed off set, apparently furious with the decision to lose his act.
X Factor bosses were accused of interfering with the judging process after a producer was seen talking to Louis Walsh during the elimination performances.
More than 1,000 people have complained to media watchdog Ofcom claiming the X Factor results show was fixed.
The X Factor continues Saturday at 8.20pm with the results show on Sunday at 8pm. There will be performances from Taylor Swift and Rebecca Ferguson.