Tube sites are 'changing porn', says UK regulator
The regulator of online porn in the UK believes the continuing rise of tube sites is making controlling porn more difficult.
Tube sites allow users to upload content and watch films for free.
The Authority For Television On Demand (Atvod) has the power to fine or close sites based in the UK if they don't put up barriers to hard core content.
Atvod cannot act on sites based overseas but many of these are popular in the UK.
UK law requires websites to keep pornographic images out of reach of under-18s.
'Changing industry'
The porn industry itself has had to adapt to this new tube-based market.
A plummet in sales of DVDs as well as tube sites means the days of the big budget porn sets are mainly gone.
Tom Dennis is from the Adult Industry Trade Association (AITA) and also a producer.
He said: "Less work comes around because people aren't supporting the porn industry.
"They'd rather watch their porn for free then pay for it."
AITA thinks there are now at least 5,000 people working on adult webcams up and down the country and the number is continuing to rise.
"It's live and cannot be pirated," says Tom Dennis.
"It means that performers can directly get paid from their online performances."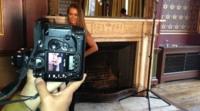 Amanda is one performer who uses webcamming as her main source of income.
She said: "I think it's going to take over to be fair, the webcamming side of stuff."
'Free is popular'
Some of Amanda's customers found her via adverts on tube websites.
They often link to webcamming through adverts on the sites and make money from royalties.
She said: "[Tube sites] affects a lot of things, especially new girls who come into the industry. There's not as much work. You have to have some sort of foundation to work on."