Cher Lloyd to judge on US Disney dance competition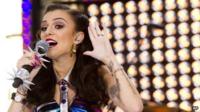 Cher Lloyd has signed up to be a judge in the US on the new Disney dance competition Make Your Mark.
She will be joined on the panel by dancer Derek Hough, who is the ex-boyfriend of her former X Factor mentor Cheryl Cole.
The pair will be joined by a third judge, choreographer Rosero McCoy and they will narrow down the finalists.
The competition is a spin-off of Disney's Shake It Up, which stars Bella Thorne and Zendaya Coleman.
Make Your Mark will air over two nights in the US starting on 19 October.
Cher Lloyd has been in America promoting her debut album Sticks + Stones, which has gone in at number nine on the US Billboard 200 after selling 31,000 copies.
Recently the former X Factor competitor has appeared on high profile US programmes such as NBC's Today show and performed in Times Square in New York.
She has produced a special edition of Sticks + Stones for the US market which features different songs and collaborators.