Coleen and Wayne Rooney expecting their second child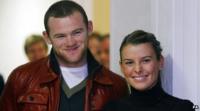 Coleen Rooney has announced that she and her husband Wayne, the Manchester United striker, are expecting their second child.
The couple already have a son, Kai Wayne Rooney, who is three years old next month.
Mrs Rooney told her 840,000 Twitter followers: "A few people guessed, so news is out ha!!
"Me Wayne and Kai are thrilled that we are expecting a new addition to our family around May time."
She followed the message with a second tweet saying: "Its still only early but bursting with excitement!
"Also wanted the news to come from us, before anyone else!"
Wayne and Coleen were childhood sweethearts and married in June 2008 when they were both 22.
'Congratulations'
Members of the public and celebrities were quick to congratulate the couple.
Piers Morgan tweeted: "Congratulations on your fabulous news @WayneRooney & @ColeenRoo - and fingers crossed the baby gets its mother's looks."
Wayne Rooney's former England strike partner Michael Owen also tweeted his congratulations.
"Didn't think you had it in you to fill another pram! Still a couple behind me!
"Congratulations to you both."
The Manchester United and England star spent Tuesday at the opening of the FA's new £105m England training facility, St George's Park in Staffordshire.
He said he was "delighted to be back" in the England set-up for the World Cup qualifiers against San Marino and Poland after four weeks out injured.
The 26-year-old missed the last two internationals with a badly gashed leg but said he was impressed by English football's new home, describing the facility as "the future".