The X Factor gets 1,000 complaints after results show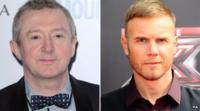 More than 1,000 people have complained to media watchdog Ofcom claiming the X Factor results show was fixed.
During Sunday's show producer Richard Holloway was seen talking to judge Louis Walsh.
Walsh first spoke out to save Carolynne Poole in the sing off before changing his mind and using his deadlock option, which saw Rylan Clarke win a public vote.
Holloway has since denied any claims the show was fixed.
He said: "We don't tell the judges how to vote and, as you saw on the show, Louis hadn't - and couldn't - make up his mind.
"On Sunday night I was telling Louis the order the judges would vote in and that he would be last."
Carolynne Poole's X Factor mentor Gary Barlow was seen angrily walking off the ITV1 show following the results.
However, he did return to appear on the Xtra Factor on ITV2.
X Factor bosses apparently hoped to clear the air by taking all four judges and other members of the team out to dinner in London on Tuesday night.
Host Dermot O'Leary was also reportedly in attendance.
A spokeswoman for the show would not comment after reports that Louis Walsh and Gary Barlow sat at opposite ends of the table and didn't speak to each other.