Farmers say they're struggling after a bad harvest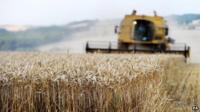 There's a warning that food prices could rise because of wet weather during the summer months.
Farmers say that a drought in spring, followed by the second wettest June, July and August on record has damaged wheat crops.
Farming union, the NFU, says in some parts of England production is down by as much as 30%.
Supermarkets are also reporting problems with some fruit and vegetables.
Matt Redman, 24, is a farmer from Bedfordshire and says he's struggling.
"Harvest this year has been a pretty stressful affair for most farmers across the country," he said.
"Machinery often wouldn't travel and it was often too wet to harvest crops and store them without drying them first."
He says the quality of the wheat he has produced isn't as good as normal and that he had to spend more trying to protect it from diseases.
'Less money'
Rachel Hughes has two young boys, one aged four and one sixth months.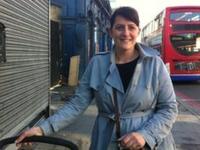 She says she's already noticed the high cost of food in recent years and thinks if it goes up further more people will find it difficult to cope.
She said: "Money is a lot tighter than it was, so I absolutely shop around.
"I feel for those families that have more children and less money. It is a struggle."
She says she's had to learn to budget.
"I get a bit of a buzz out of it," she said. "I do want to get the best value and the best cost.
"That's something that I've got time to do. Other families who work, it is going to hurt."