X Factor producer denies fix over singer Carolynne Poole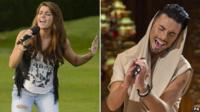 An X Factor executive seen talking to Louis Walsh before singer Carolynne Poole was voted off the programme has denied that the show is a fix.
Producer Richard Holloway was seen whispering to Walsh just before the judges delivered their verdict on Sunday night.
He has released a statement insisting that he did not tell Louis Walsh how to vote.
"We regularly chat to the judges during the show," he said.
"They don't wear earpieces like Dermot (O'Leary) so we have to speak to them throughout the programme, on anything from timings to running order changes.
"On Sunday night I was telling Louis the order the judges would vote in and that he would be last.
"We don't tell the judges how to vote and, as you saw on the show, Louis hadn't - and couldn't - make up his mind so he decided that sending it to the public vote was the fairest thing to do."
Richard Holloway was the executive who told Cheryl Cole she had been sacked from X Factor USA.
Viewers had accused The X Factor of being a fix when the Irish judge initially appeared to save Carolynne Poole, before backing Rylan Clark, when they were the bottom two in the public vote.
Walsh then angered Gary Barlow by saying he could not make up his mind and was taking the decision to deadlock, or a public vote.
'Fairest option'
Louis Walsh has defended his decision to force the show to an audience vote.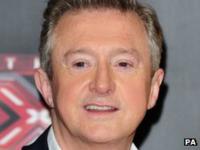 "I was torn," he said. "I think Rylan's a great entertainer and Carolynne's a great singer.
"I couldn't make up my mind. So, finally, I decided that the fairest thing to do was to go to the public vote and Rylan had more votes than Carolynne.
"It was sad but it was the fairest option."
Carolynne Poole, 32, said she was distracted by the producer talking to Louis Walsh during her song.
She also said she felt "embarrassed" for thinking that she had been saved.
"I felt relieved because I heard him say twice, 'I want to save Carolynne' and that's why I put my hands on my face and was like 'Thank God.'"