Lady Gaga booed after late arrival at perfume event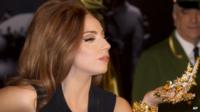 Lady Gaga has been booed after turning up more than an hour late to the UK launch of her new perfume.
Her fans, known as Little Monsters, lined a special black carpet at the Harrods event for her fragrance, Fame.
She was due to arrive at 7.45pm but didn't get to the department store until an hour later after arriving in a horse and carriage.
Waiting fans were upset when she failed to walk the full length of the carpet, going inside before they had seen her.
'Let down'
Luke Reader, 18 and from central London, said: "It's quite ironic it's called Fame because it just shows how much fame has changed her.
"She couldn't even spend five minutes talking and having some pictures taken. It's not on."
Alex George, 18 and from north London, waited almost three hours to see Lady Gaga and described the event as "a bit of a let down".
She added: "I'm obviously annoyed. She was late and I thought she would sign autographs and I'd be able to get a picture."
There's been no response from Lady Gaga but on her way to the event she tweeted: "So excited, going to be at @Harrods in an hour! Just drove though London, so beautiful seeing all the Sunday strollers in love..."
Competition winners joined the Bad Romance singer inside the shop, where they had a themed tea party.
Her perfume sold six million bottles in the first week of release, making it the fastest-selling scent after Coco Chanel.
It is the first black fragrance that becomes clear once it has been sprayed and contains the poisonous flower Belladonna.