X Factor deadlock drama saves Rylan Clark from leaving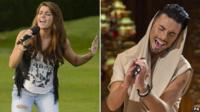 X Factor bosses have been accused of interfering with the judging process after a producer was seen talking to Louis Walsh during last night's elimination performances.
Carolynne Poole was eventually sent home from the competition after Walsh decided to go to deadlock.
She had received fewer public votes than the other contestant in the bottom two, Rylan Clark.
Her mentor Gary Barlow stormed off set, apparently furious with the decision.
Meanwhile, the studio audience booed at the outcome and Rylan Clark started trending on Twitter.
'Difficult'
Louis Walsh seemed to struggle to come to a conclusion when making the final judges' vote between sending Rylan out of the competition or leaving it to the public vote.
Initially he said: "It's a really difficult one. I'm going to go with Carolynne, I want to keep Carolynne."
Then he changed his mind, adding, "I want to take it to deadlock."
After the show, Walsh said he thought going to deadlock was the fairest option.
"I was torn. I think Rylan's a great entertainer and Carolynne's a great singer.
"I couldn't make up my mind. So, finally, I decided that the fairest thing to do was to go to the public vote and Rylan had more votes than Carolynne.
"It was sad but it was the fairest option."
'Fuming'
Carolynne, who made it to judges' houses last year, said she was distracted by a producer speaking to Louis Walsh during her song.
She said: "It did put me off a bit seeing someone come talk to Louis, mainly because I was a bit cheesed off he wasn't listening to me sing, he was having a little chat.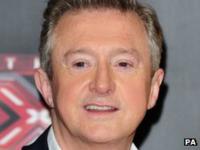 "There were lots of things going on in those few minutes that seemed to be a bit strange."
The 32-year-old said she felt "embarrassed" for thinking that she had been saved.
"I felt relieved because I heard him say twice, 'I want to save Carolynne' and that's why I put my hands on my face and was like 'Thank God.'"
The Leeds singer also said that mentor Gary Barlow had been in touch with her early on Monday.
"[His] reaction was absolutely fuming," she revealed. "He's just text me to say 'I'll give you a ring later. I'm still so angry.'"
Ratings
An X Factor spokesperson said that "producers always chat to judges during the show".
"Carolynne had the least amount of public votes so the public's choice to stay in the show was Rylan."
The X Factor beat Strictly Come Dancing in the ratings, with 9.2m people tuning in to watch the first round of live shows on Saturday night.
In comparison, the BBC show was viewed by an average of 8.7m.
It was on earlier in the evening than The X Factor, allowing audiences to watch both programmes.
That follows last year's ratings battle, where there were complaints when the two shows were scheduled to overlap.