Mumford and Sons' third album will be 'out sooner'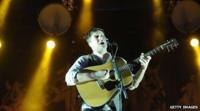 Mumford and Sons say they want to release their third album sooner than the gap between their first two records.
The band's latest album Babel, the follow-up to their 2009 debut, has just been released.
Marcus Mumford said fans wouldn't have to wait as long next time.
"We want to make one quicker than we did with this one," he said. "We want to get into the studio quicker and get another album out a bit sooner."
Marcus Mumford said the delay was down to a hectic live schedule, a commitment that has helped the band break America and bag the fastest-selling album there so far this year.
"[The wait] was just because we were touring that we didn't have time," he said.
"It wasn't like we were sunning ourselves. We've been playing music the whole time."
The band also explained the variety of venues on their upcoming UK tour, which includes theatres and arenas.
"We were quite keen to give people options," said double bass player Ted Dwane.
"A lot of people don't like going to see a band in a huge venue so we informally called it 'the tour of two halves'."
The four-piece also played smaller UK venues this summer on their Gentlemen of the Road tour, something the boys reckon they'll probably do again.
Glastonbury 2013 could also be on the cards for the four-piece.
"Yeah, we'll see," said Ted. "We love playing Glastonbury [so] we'll see if they love it when we play Glastonbury."