Psy fails to reach number one in US with Gangnam Style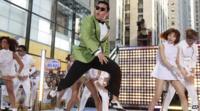 K-pop sensation Psy has been kept off the top spot in the US by Maroon 5.
Gangnam Style made it to number two, failing to knock One More Night from the top of Billboard's Hot 100.
The singer is the first South Korean artist to get to number one in the UK and his video has already had more than 300 million views on YouTube.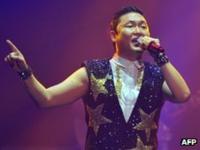 People around the world have been copying the Gangnam dance, with reports of it being imitated at weddings, naval bases and a prison.
Last month he joined forces with Justin Bieber's management team, which is led by Scooter Braun, with the aim of charting in America.
"We've come to an agreement to make history together," Braun said in a video posted online.
"[It's] to be the first Korean artist to break a big record in the United States."
Psy, whose real name is Park Jae-Sang, gave a free concert in Seoul earlier this week for 8,000 fans.
Although he is new to the Western charts, the 34-year-old is already a popular figure in K-pop in his home country.
He's been singing for 12 years and has released six albums.