Lady Gaga first to pass 30 million Twitter followers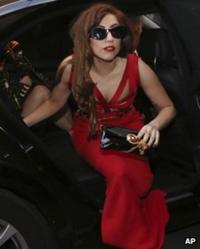 Lady Gaga has become the first Twitter user to reach 30 million followers.
According to social media monitoring site Starcount.com, the US singer gains around 30,000 new followers every day.
Analysts from Starcount cite the 26-year-old singer's regular postings as one of the main reasons for her popularity.
In March Lady Gaga reached the 20 million mark and she has gained 10 million followers in the last seven months.
Justin Bieber is close behind in the Twitter chart (28 million), Katy Perry is in third place with 27 million and Rihanna is catching up with 26 million followers.
Last month, Lady Gaga used her followers to help her track down a fan who she wanted to employ on her creative team, The Haus of Gaga.
The singer says she updates her account personally.
She passed the 20 million followers mark in March and also has her own social networking site called Little Monsters.
In addition to Twitter she has more than 53 million friends on Facebook, compared to Justin Bieber who has 46 million.
Today, the founder of Facebook announced on US television that the site now has more than a billion users a month.
Lady Gaga is on the European leg of her Born This Way Ball tour.