Thousands apply for government help to start a business
4 October 2012

From the section

Politics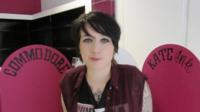 Nearly 2,000 people have applied for a new government loan designed to help people under the age of 25 to start their own business.
The scheme was announced in May as an attempt to boost the economy and cut youth unemployment.
But critics say the money won't go far enough and warn most new companies go bust within the first few years.
Only a handful of people have actually received a start-up loan so far and 23-year-old Katie Mewse is one of them.
Her new tattoo studio in Doncaster is almost ready to open.
"Every time I walk in, I get so excited," she said. "I can't wait to get going and make a success of it."
'Put work in'
Katie had to come up with a business plan and take several courses before being given £3,500, which she will have to pay back.
"Everyone has bills to pay and mine start next week, so hopefully I'll be getting some money in," she said.
"It is a hard time to make a business work but if you're willing to put the work in then you should get the results."
The government hopes to fund 30,000 young entrepreneurs over the next three years.
Some business groups like the British Chambers of Commerce support the scheme but others are less optimistic.
'Quite a challenge'
The Federation of Small Businesses says the average loan amount is too low.
"Obviously, £2,500 is better than nothing, but for many start-ups it won't go very far," a spokesperson said.
It also wants people to be given more time to pay back the money they have borrowed.
Neil Lee, an economist with The Work Foundation, thinks it will be hard for start-ups to survive.
"Most new firms fail even in good conditions," he said.
"Expecting young people to set up successful firms which grow in the face of a double-dip recession is quite a challenge."
He thinks the money would be better used by existing companies who want to expand.