American Idol auditions halted after Carey and Minaj row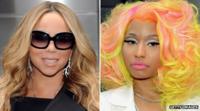 American Idol producers were forced to stop auditions after judges Mariah Carey and Nicki Minaj became involved in a heated argument, reports claim.
Footage released by entertainment news website TMZ appears to show studio staff trying to stop the pair shouting at each other.
In the clip Nicki Minaj swears repeatedly at Mariah Carey, who struggles to be heard above the rapper.
Auditions in Charlotte, North Carolina, were then called off (2 October).
Presenter tweet
It's thought the clash started when the stars failed to agree on the performance of a contestant.
Later that day, a tweet from the show's host Ryan Seacrest seemed to suggest filming hadn't gone to plan.
He wrote: "Going to bed in Charlotte after an anything but dull day at #idol auditions. Hit u in morn."
Nicki Minaj and Mariah Carey are just weeks into their roles as judges on the US series, having replaced Jennifer Lopez and Steven Tyler on the panel.
There have been rumours of tension between rapper Minaj, 29, and singer Carey, 42.
At a press conference two weeks ago Carey laughed off those claims.
"How we gonna feud in two days? I think a feud takes a little longer.
"It's fun, it's music, its singing, its laughter," she said.
The other American Idol judges on the show were Keith Urban and Randy Jackson.
Series 12 of American is due to be shown on 5* in January 2013.