Petrol sales slump: Are you put off buying petrol?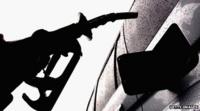 There has been a fall in petrol sales even though there are lower prices at the pumps, according to official figures.
Almost 500 million fewer litres were sold between April and June compared to the same period the year before.
Despite fuel prices falling recently, the AA is blaming the long-term increase in the cost of petrol for the sales slump.
Newsbeat asked motorists in Romford what they thought about the subject.
Twenty-four-year-old Perry Holland said: "When I'm low on money I can't drive because you end up paying a tenner for petrol and not really getting anywhere.
"I tend to then have to walk or take the bus instead. And it's not just the fuel, it's insurance, tax and everything else that's so expensive.
"It's difficult to take my kid on buses and things like that, so I end up using my car to take him to nursery."
The AA also says that panic buying in March, around the time fuel tanker drivers were threatening to strike, could be responsible for fewer people buying petrol in the period afterwards.
It also thinks that the recent bad weather could have stopped people going out so much.
'Everything is rising'
Some of the people out in Romford said they didn't drive because fuel and insurance cost so much.
However, 24-year-old Candice Nickelson said the cost of petrol was something she put up with.
"I actually moved from Walthamstow to Bishops Stortford.
"I make commutes back to Loughton to see family and friends.
"It costs me and my partner around £400 every month, which I know is a lot.
"It's not because we're really well off or anything, but bills are rising - everything is rising - and we've just had to adjust to it."
Read Newsbeat's guide to petrol prices