Simpsons launch competition to design opening credits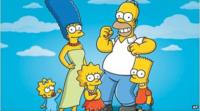 The producers of The Simpsons are asking the public to send in their ideas for the show's opening credits sequence.
Each episode of the animated sitcom famously starts with a different set of events ending with the characters taking their place on the couch.
Producers say the best idea may end up being animated and included in the final episode of the current series.
In 2010, graffiti artist Banksy designed a couch gag for the show.
It showed children locked away in a factory producing animated frames for the show, while pandas and a unicorn slaved away making Simpsons merchandise.
Other skits have seen the family arrive at their couch to find The Flintstones and a sequence done with clay models.
Fans of the show are being asked to describe their idea in 100 words.
Rules for the competition state: "Your idea needs to be 2D animation; it must be 30 seconds or shorter; it can't have dialogue; it can't have music; it can't have brands or commercials; it must conform to broadcast standards; and it must use all five family members.
"Other than that, the only limit is your imagination."
The winning entry is likely to be broadcast in May 2013.
The Simpsons, which began in 1989, is the longest-running animated comedy show of all time, with more than 500 episodes broadcast.