Oprah Winfrey and Britney Spears top female rich list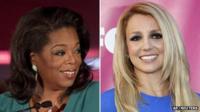 Oprah Winfrey has been crowned the highest female earner in Hollywood by Forbes magazine, having taken home an estimated $165m (£102m) last year.
Britney Spears is next, with earnings thought to be about $58m (£36m).
Taylor Swift completes the top three, only just behind Spears, making $57m (£35m) in the past 12 months.
According to Forbes, Oprah Winfrey is America's only African-American billionaire and owns the television company, Oprah Winfrey Network (OWN).
She is also a television presenter and recently interviewed Rihanna about her relationship with Chris Brown.
Britney Spears did not make the Forbes list last year, possibly down to a reduction in the amount of her touring.
This year the pop star has performed 75 dates as well as earning money from various endorsements and her perfume line.
She has also taken a role on the judging line-up of The X Factor USA.
Taylor Swift's place is partly down to her tour, which grossed more than $1 million per night (£620,000) and ran for more than 65 dates.
Other names on the list include television host Ellen DeGeneres and singers Rihanna and Lady Gaga.
Forbes' highest-paid women in 2012
1 - Oprah Winfrey, $165m (£102m)
2 - Britney Spears, $58m (£36m)
3 - Taylor Swift, $57m (£35m)
4 - Ellen DeGeneres, $53m (£33m)
5 - Rihanna, $53m (£33m)
6 - Lady Gaga, $52m (£32m)
7 - Jennifer Lopez, $52m (£32m)
8 - Gisele Bundchen, $45m (£28m)
9 - Katy Perry, $45m (£28m)
10 - Judge Judy Sheindlin, $45m (£28m)