Foo Fighters 'to go away for a while'
3 October 2012

From the section

Music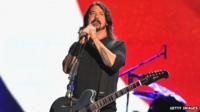 Dave Grohl says that the Foo Fighters are to take a break from the band but that they are not splitting up permanently.
On Saturday the lead singer told New York festival fans that "this is the show where we come out and play as many songs as we can.
"I don't know when we're going to do it again."
But in a public letter he has since said that there are no plans for them to break up for good.
"I can't give up this band. And I never will. Because it's not just a band to me.
"It's my life. It's my family. It's my world," says Grohl.
There are currently no plans for the band to play together again but Grohl says he is not worried.
"It's a good thing for all of us to go away for a while. It's one of the reasons we're still here."
Dave Grohl formed Foo Fighters in 1994 after the death of his Nirvana bandmate, Kurt Cobain.
Foo Fighters have won 11 Grammy Awards and released seven studio albums.
Grohl will be working on solo projects while on the break from Foo Fighters, including a documentary and an album called Sound City.
"It could be the biggest, most important project I've ever worked on," he has said.
The band headlined Reading and Leeds festivals earlier this year, along with Kasabian and The Cure.