Wretch 32 'deals' with tabloid rumours about love life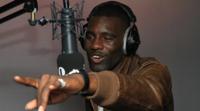 Wretch 32 says that he has learnt to deal with tabloid rumours about his personal life.
They include reports earlier this year that the rapper and Girls Aloud singer Cheryl Cole were an item, something both parties denied.
"It's definitely a difficult part of what I do," he said.
Although he's come to terms with it Wretch says he's worried about the effect the stories may have on his five-year-old son.
"He's bigger now and he can read the papers," he revealed.
"I would never want him to read anything other than to do with my music, an interview or a campaign."
The 27-year-old, whose real name is Jermaine Scott, is in the process of recording his third studio album.
Black and White, released in 2011, spawned top five singles Traktor and Unorthodox.
Don't Go featuring Josh Kumra landed the rapper his first solo number one single.
Wretch 32 says he accepts that with a certain level of success there's bound to be interest in his personal life.
He said: "It's a bit random when you just come out of a nightclub with someone.
"You could just honestly be leaving at the same time as them but then a massive story is formed."
The rapper also claims he's had to watch who and what he posts on social network sites.
"They [reporters] go back to your Twitter, see you tweeted someone on the 21 January and things get pieced together. I suppose you just have to deal with it."