X Factor acts given wild cards 'want it so much more'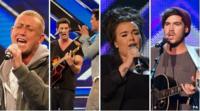 The four acts granted a wild card by The X Factor judges have begun their bids to be voted through to the live shows.
Viewers can choose who they'd like to become Saturday night's 13th finalist in a twist to the competition.
Among the hopefuls is Christopher Maloney, who says he was "broken hearted" when he was rejected by Gary Barlow.
"The 'no' was the worst news - on a par with when my granddad passed away.
"That was how bad it was. I was absolutely broken hearted. I was a broken man," says the 34-year-old from Liverpool.
'Nearly arrested'
But he said that getting a second chance from the Take That star was a "dream come true".
"I can't let him down. He's brought me back for a reason," he adds.
Adam Burridge, 24, received a lifeline from the boys' mentor Nicole Scherzinger.
He told Newsbeat that his supporters were prepared to go to extreme lengths to secure his place in the finals after he went home disappointed from the judges' houses.
"My mum and dad have already told me they were nearly arrested for putting a banner up across the A40," he says.
"Hopefully that's going to do the trick. I don't know."
'Worst feeling'
Tulisa Contostavlos was in tears when she sent home 16-year-old Essex student Amy Mottram.
But the former N-Dubz singer then picked her as her wild card, hoping to take her through to the finals along with the three other girls in her group.
"Having to go home and tell my family and my mum that I hadn't got through was the worst feeling ever but I was so proud of how far I'd got," says Amy.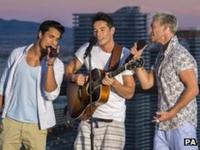 "To be given a second chance now makes me just want it so much more. It's my future and I don't want to mess it up."
Also facing the public vote are Times Red, from Louis Walsh's groups category.
The trio say they thought their lack of emotion on camera had given the wrong impression.
"I think everyone deals with these kinds of stresses differently," adds band member Staz Nair.
"Just because we didn't all cry doesn't mean we don't want it as much as everyone else."
The first X Factor live show is on Saturday 6 October at 8pm on ITV1. Dermot O'Leary will announce who has won the public vote at the beginning of the programme.