Strictly Come Dancing: New partner for Johnny Ball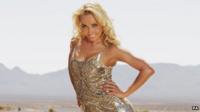 A star from the US version of So You Think You Can Dance will be Johnny Ball's new partner in Strictly Come Dancing.
32-year-old Iveta Lukosiute will replace Aliona Vilani who fractured her ankle in training.
The Strictly Come Dancing website confirmed Aliona would probably be out of action for at least a fortnight.
Iveta, from Lithuania is the current world champion in 10-dance.
"I am super excited to come to the UK and join the Strictly Come Dancing team," she said in a statement.
"When I found out that I will be dancing with Johnny Ball, I looked him up online."
She'll dance with the former children's TV presenter in the opening stages of the competition. The first live show is on 5 October.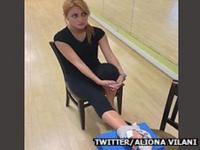 Aliona Vilani won the competition with McFly's Harry Judd in 2011.
She's posted pictures of herself on Twitter with her right leg elevated and with an ice pack on it.
She also thanked fans for messages of support on the social networking site.
"I'm so upset. This is so unexpected and so horrible," she said in an interview on the show's website.
"It happened so fast and I was in so much pain.
"I don't know what's going to happen now. I just don't know what to think actually, I'm very sad."
Johnny Ball is best known for presenting science and mathematics TV programmes for children in the 1970s and 1980s.
He is also the father of former Radio 1 DJ Zoe Ball.
She is the host of Strictly Come Dancing's sister show, It Takes Two.