Mum-to-be says whooping-cough increase is 'scary'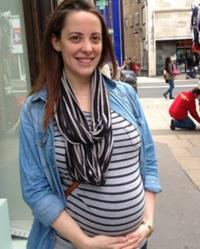 Mums-to-be like Charlotte Williams are going to be offered a vaccine for whooping-cough, after the biggest outbreak of the disease in 20 years.
Nine babies under the age of three months have died from the infection this year.
There have been nearly 5,000 cases in England and Wales so far, four times as many than there were in 2011.
Whooping-cough is spread by bacteria from people sneezing and coughing and affects the lungs and airways.
The largest number of cases have been in those over the age of 15 but there has also been a sharp rise in the number of babies under three months affected.
They are the age group most at risk.
'Old-fashioned disease'
Thirty-year-old Charlotte, who is shopping for maternity wear in London, is six months pregnant.
She said: "Whooping-cough is an old-fashioned disease that affected our grandparents' generation more."
It used to be far more common before vaccinations were introduced.
The recent increase in cases means mums-to-be will get a jab because babies can't get vaccinated until they are two months old.
"As a mum-to-be your biggest worry is your baby's health," she added.
"So as long as there are no side-effects to pregnant mums, I think the jab is a great thing.
"Going through your newborn suffering from whooping-cough would be really distressing so I think you should do whatever it takes to make sure they're well."
From Monday, women across the UK who are between 28 and 38 weeks pregnant will be offered the vaccination to boost their baby's immunity until the child is old enough to get the injection themselves.