Real ale sales rise for the first time in 20 years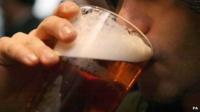 Sales of cask ale have risen slightly for the first time in 20 years, according to a new report.
Around 2.2 million barrels of real ale, about 633 million pints, were sold in 2011 - a 1.6% rise.
The Cask Report 2012-13 also reveals that while most ale drinkers are still men, high numbers of women are trying real ale.
The news comes as hundreds of pubs face closure around the country and there is a slump in general beer sales.
Total beer sales at pubs and supermarkets fell sharply earlier this year because of higher taxes, according to the British Beer and Pub Association (BBPA).
Sales fell 10% in the three months to June against a year ago, as higher beer tax and VAT cancelled out the royal wedding and warm weather.
The Campaign for Real Ale (Camra) says that younger drinkers are also consuming less lager than they used to.
Sales of lager fell from £12.7bn in 2006 to £11.4bn in 2011 but it is still the most widely drunk type of beer in the country.
The cask report's author, Pete Brown, said "try before you buy" promotions had helped ale sales rise.
"It's a big ask to expect someone who doesn't drink cask ale to choose from a line up of handpumps that mean nothing to them and spend £3 plus on a pint they might not like," he said.
"A free taster removes the risk factor and starts a dialogue between a drinker and the bar staff."
In August, it was revealed that the number of young people drinking in pubs had fallen sharply over the past few years.
However, there are now 1,000 breweries in the UK - the highest figure for 70 years.
Camra Chief Executive Mike Benner said: "It's great news that real ale is bucking the general trend in decline in the beer market.
"This is largely because more younger people are trying real ale, not just in community pubs, but in town centre bars too.
"It's also clear that real ale is a lifeline for struggling pubs as it's almost unique to the pub."
Cask Ale Week - an annual, national celebration of cask ale - is being held this year from 28 September - 7 October.