Jessie J says other Voice judges could return to show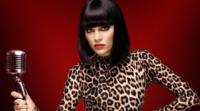 Jessie J says she believes the other celebrity coaches on The Voice will return for the second series.
The singer told Radio 1's Huw Stephens that, as far as she knew, Sir Tom Jones, will.i.am and Danny O'Donoghue would be back.
"I think so," said Jessie. "I'm not going to say 100% yes, because I've not had confirmation, but I believe so."
Jessie confirmed she would "definitely" be on the series, which is back on BBC One in 2013.
It had previously been rumoured that Jessie J and Sir Tom Jones had quit the show.
Jessie J's return is despite her saying in her new book, Nice to Meet You, that she wouldn't be taking part.
"The book was published literally a week before I was able to sit down with the producers and say 'I really want to make this work,'" explained Jessie.
"The dates of my tour and The Voice clashed, so we sat down and went through it and said 'Let's make it work.'
"I didn't want to be the only coach who wasn't there again."
Ratings on the first series of The Voice fell from 10 million in April to lows of 4.5 million later in the series, after it moved beyond the blind auditions.
The programme's format is set to change slightly for the second series, said BBC controller of entertainment Mark Linsey at the Edinburgh TV Festival.
The TV boss hinted at far more use of the popular spinning chair segment and fewer live shows.