Strictly Come Dancing star Aliona Vilani fractures leg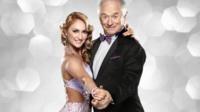 Strictly Come Dancing professional Aliona Vilani will miss the first live show after fracturing her ankle in training.
The show's website confirmed that the dancer would probably be out of action for at least the next fortnight.
There are no details yet on who will partner Johnny Ball in the opening stage of the competition.
"Aliona suffered a hairline fracture to her ankle today while training with partner Johnny Ball," a statement said.
"[That is] putting her prospects for dancing in the first Strictly live show on 5 October on hold.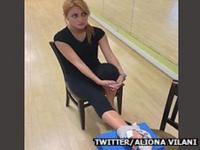 "Initial prognosis suggests our plucky pro-dancer may be out of action for the next 2-4 weeks, but a further appointment tomorrow will confirm her condition."
The dancer posted pictures of herself on Twitter with her right leg elevated and with an ice pack on it.
She also thanked fans for messages of support on the social networking site.
Aliona Vilani won the competition with McFly's Harry Judd in 2011 and came second the year before with BBC presenter Matt Baker.
Johnny Ball is best known for presenting science and mathematics television programmes for children in the 1970s and 1980s.
He is also the father of former Radio 1 DJ Zoe Ball.
She is the host of Strictly Come Dancing's sister show, It Takes Two.